How to Make a Salve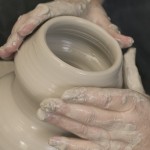 In certain skin conditions, it's useful to make your own topical medicine.  From the homeopathic perspective, some strong chemicals (and even topical homeopathic treatments) are suppressive and drive illness deeper into the body and only delay the healing of the skin condition.  As people heal, we often have to reckon with that old nagging skin condition once again if it had been previously suppressed.  While a return of a past symptom that was previously suppressed is a good sign of healing, it can be irritating for the person to experience.  The temporary goal becomes soothing the skin while the body works to establish an equilibrium over the skin condition.  Making your own salve can be extremely useful here.  In my treatment with patients, there may be certain herbs that I recommend that one can't find in a cream or ointment on the market, or the herbs may be in a cream or ointment found in a store but are combined with something that would be deleterious for the healing process.  Making a salve is quick and easy, and if you like crafts, it is enjoyable.
Here's how to make a salve from dried herbs:
1. Take 1 cup of either Olive oil, Sesame oil, or Almond oil and stir in 1-2 oz of a dried herb (or herb combination).
2. Place the mixture in a pot over the stove.  Heat the mixture at low heat (between 100-140 degrees F) for 3-5 hours.  An alternative to heating the herb and oil together for 3-5 hours is to soak the herb in the oil for 3-4 weeks, preferably in a window in direct sunlight.
3. Strain into another pot on the stove.
4. Add about 1 oz of shaved beeswax per cup of oil. 
5. Place on low heat until the beeswax has melted.
6. To test the firmness of the salve, dip a metal spoon into the mixture then place it into the freezer for a few minutes.  If the salve is too runny, add more beeswax to harden it.  If it is too hard, add more oil to soften it.  Repeat until the consistency suits your purpose.
7. Lastly pour the mixture into an appropriate container, let it cool and harden, then use as desired.
Blog
February 9th, 2012