Fiber-full and delicious: Spanish lentil recipe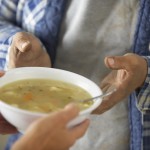 I continuously educate my patients as to the importance of dietary fiber.  But, how can a person get in 40-50 grams of fiber a day without feeling like a ruminant?  The answer is to choose high-fiber foods (and use a fiber supplement which is another topic of discussion). 
Here is one such recipe that I think you'll agree is a delicious way to eat lentils.  Legumes (i.e. beans) are packed with fiber and 2/3 cup cooked lentils gives you about 10 grams of it!  So, eat plenty of legumes by finding delicious recipes that the whole family will want to eat.  Remember that lentils don't need to be soaked then rinsed with clean water ahead of time like other legumes to reduce their potential to cause gas.  If you do get gas from eating legumes, this is one sign to make an appointment with me to rebalance your digestive system.  Please eat and be well!
Ingredients
1 onion peeled
Enough water to cover lentils in pan
2 2/3 cup lentils
1 cup olive oil
2 cloves garlic (1 peeled and 1 unpeeled)
2 slices bread
1 tomato
½ tsp paprika
1 sprig parsley
Steps:
1. Cut ½ the onion into larger pieces & ½ into finely chopped pieces.
2. Place the lentils, bay leaf, large pieces of onion, and 1 unpeeled garlic in a pan with the water.  Cover, bring to a boil, lower heat then simmer 1-2 hrs until lentils are tender.
3. Sauté bread until crisp & evenly golden, drain and set aside.
4. Keep the left-over oil (from sautéing the bread), add finely chopped onions and cook on low heat for 8 min until brown.  Add tomatoes & cook for another 10 min.  Remove from the heat & add the paprika.
5. Chop the peeled garlic, parsley, and bread then mix with the lentils. 
6. Cook for 10 min. then serve.
Recipe gleaned from 1080 Recipes by Simone and Inés Ortega.